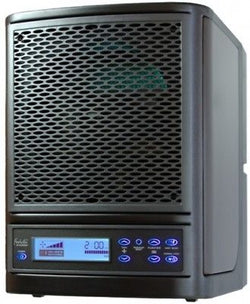 Fresh Air Surround
Listen to the podcast with the creator of the Healthy Living Technologies product line, Michael Jackson
Have you ever thought about what's really polluting your home environment? Little ones bring the day's germs home with them and spread them everywhere. Garbage cans are funky. The smell of leftover spicy food can linger for days. And who knows what surprises our pets bring in with them.
Now imagine eliminating that pollution at the source. We're not talking about spraying a cloud of flower-fragranced chemicals. Our solution is as easy as pushing a button to keep things cleaner and safer to touch, not to mention smelling fresher. The Fresh Air Surround by Vollara is a revolutionary air purifier that does so much more than clean the air. Using the same science as nature, Fresh Air Surround destroys odors, eliminates smoke and reduces harmful contaminants ordinary cleaning can leave behind.
So how does the Fresh Air Surround clean and freshen the air? In short, it is technology based on how nature keeps things safe and clean outdoors. The natural processes found in thunderstorms, sunlight, and lightning are re-created indoors. Negatively charged ions remove pollutants from the air. ActivePure Technology duplicates nature to safely reduce contaminants on surfaces.
Fresh Air Surround by Vollara is like 24/7 healthy home insurance. It is the core of Vollara's total protection for whole-home environmental conditioning. Fresh Air is always working - sending out an active army of safe and natural ions as well as pollutant-controlling, odor reducing and oxygen-rich 'scrubbers' to make your home safer and healthier.
Benefits of Fresh Air Surround
Removes airborne contaminants and allergens - reducing asthma and allergy symptoms for a healthier body
Freshens air and removes odors in otherwise stale-prone environments
Removes dirt and dust from the air to make cleaning easier
Optional Ozone Free bulb allows for operation without creating ozone
Features:
The advanced technology contained within the Fresh Air Surround serves to make breathing easier, cleaner and healthier. This convenient, in-home unit provides the cleanest, freshest air possible throughout the entire home.
Uses super oxide ions and hydro peroxides created by ActivePure Technology to remove contaminants
Negatively charged ions remove microscopic particles from the air that will reduce allergens and harmful airborne pollutants
Features a high intensity UVC light that makes use of the same oxidation and ionizing properties of light as naturally occurring sunlight
Fresh Air Surround with ActivePure Technology, Certified Space Technology™, creates healthier living spaces
Normal Mode uses our exclusive ActivePure (RCI) technology to produce safe, low-level, natural oxidizers and super oxide ions for basic, everyday applications
High Mode adds the power of activated oxygen for faster coverage and increased elimination of smoke, odor, and surface contaminants
8-hour Away Mode increases the maximum output of activated oxygen for incredible effectiveness in unoccupied areas
Includes a remote control for easy operation
An optional prefilter is available if your environment is exceptionally dusty
Improves the quality of air in an environment up to 3,000 sq. feet
IntelliAir Technology alerts you when normal maintenance is needed or service is required
Fresh Air Surround Specifications
Electrical
• 100 ~ 240 VAC 50/60 Hz External Power Supply

 


• 50 watts maximum power consumption

 


• Negative ion generation
Size
• Dimensions: 12" high x 9" wide x 12" deep (30.5 cm x 22.9 cm x 30.5 cm)

 


• Weight: 16 lbs

Purification Plate Output

(High Mode)

> 0.05 ppm
Coverage
Covers a range of 250 sq. ft. to 3,000 sq. ft. (23 m2 to 279 m2)*

 




* Depends on variables such as severity and frequency of pollution, humidity, and temperature.

Applications
Homes, offices, salons, medical/dental offices, light industrial
Warranty
Three (3) year limited warranty
We want you to love every Myers Detox purchase you make, but, occasionally, a product may not meet your expectations. If you are dissatisfied with your purchase for any reason, please review our return and cancellation policies below. 
Requesting a Return
You may contact Myers Detox Support for return requests, or you may issue your return via your online account. Just follow these simple steps:
Check to make sure your item is eligible for a return (see below for more details).

If it is,

login to your account

.

On your account, select 'Completed Orders', then select 'Return Item(s)'. 
Please include your name and/or order number with all returns for reference. Please return all items to:
Myers Detox
10041 Regal Row
Suite 150
Houston, TX 77040
Supplements
Should you wish to return anything bought from us, we will be happy to give a refund given the following: 
Myers Detox return policy is valid from 60 days from the date of purchase. If 60 days have gone by since the date you purchased, unfortunately, we can't offer you a refund or exchange.
To be eligible for a full refund, your item must meet one of the following conditions: 
The products must be unused with the seal intact and in resalable condition.

The products can be opened, but must contain the unused portion of the product remaining in the bottle.
We will not provide refunds for bottles returned empty. 
You must pay to return products to Myers Detox Inc. 
Return postage costs can only be refunded or paid by Myers Detox Inc. if the items are deemed faulty, damaged or you have received the wrong item.
Harmoni Pendants
Please see: https://www.harmonipendant.com/policies/refund-policy
Myers Detox Protocol/Functional Medical Tests/Practitioner Consultations
Within 60 days of purchase, you may cancel your order for a full refund. 
Hair Mineral Analysis
If you have not mailed in your hair sample, we can provide a 60 day money back guarantee. If you have mailed in your hair sample, we cannot offer a refund. 
Myers Detox Digital Courses
The following courses:

Myers Detox Protocol Course

14 Day Liver Rehab Course 

14 Day Weight Loss Challenge

Emotional Detox Course

EMF Detox 

Challenge
Comes with a full 30 day money back guarantee. 
NES Health BioSync Scanners
NES Health BioSync Scanner devices may be returned within 30 days of purchase. However, a return cannot be issued if you have already received a consultation with a NES Health coach to review your scan.
miHealth Devices
NES miHealth devices are shipped directly from NES Health, Inc. and are subject to their return policies. NES Health will accept returns for items within 30 days of purchase for a full refund (sender is responsible for return shipping costs). In order to request a return for your NES miHealth device, please contact Myers Detox Support.
There is a 1 year manufacturer warranty for any hardware and/or software defects. If you have any problems with your miHealth device, please contact [email protected] for warranty service or miHealth replacement. 
Damaged Products
If you receive damaged items, please contact Myers Detox Support and we will replace or refund your order immediately.
Recommended Products or Affiliate Products 
Recommended products listed on the Myers Detox store but sold or fulfilled on external websites and shipped from other companies are subject to that company's individual return policies and are not handled by Myers Detox. Please contact these companies for returns/refunds.  
These products include infrared saunas, water filters, miHealth devices, beauty care products, and some supplements. 
Processing your Refund
In most cases, your refund will be issued within a few days of our receipt of your return. 
Shipping Costs for Returns
We will offer a prepaid return label if the return is a result of our error (you received the incorrect item, etc.). Otherwise, the shipper will be responsible for return shipping charges.
Cancellation Policy for Physical Product Orders
We generally ship all orders within 24-48 hours of placement, but we may be able to cancel your order prior to shipment. Please contact us as soon as possible upon placing your order if you would like to request cancellation.
Cancellation Policy for Practitioner Appointments
Wendy Myers and Myers Detox LLC understand that life is full of unplanned activities that can disrupt our schedules. Should you need to cancel or reschedule your appointment with your health coach, we require that notice be given at least 24 hours in advance. If a cancellation is made after that time, you will be charged in full for the session. If you are not present for your session, you will also be charged in full for the session. 
Additional Questions or Concerns?
Please contact Myers Detox Support.