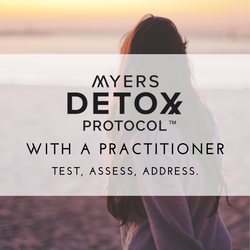 Myers Detox Protocol with a Practitioner
Have you been to many health professionals and not been helped?
Are your symptoms robbing you of your joy (and your life)? 
The simple reality for ALL of us is that we have been accumulating metals and chemicals for our entire lives.
And metals and chemicals are the #1 driver of disease today. 
Toxicity is the major culprit behind these issues:
Slow metabolism
Los energy
Brain fog
Digestive issues
Allergies
Cellulite
Thyroid problems
Sleep issues
Low libido
No matter how healthy you eat or take care of yourself, you CANNOT achieve true health unless you purge heavy metals and environmental chemicals from your body.
The Myers Detox Protocol does exactly this. Wendy Myers developed this proven protocol after working with thousands of clients.
The Myers Detox Protocol vastly improves your health with the power of DETOX. The program begins with a Hair Mineral Analysis. This test result is then analyzed to design an individualized supplement program based on your heavy metal toxicities.
The Myers Detox Protocol gives you personalized, individual attention with a coach that guides and teaches you about how to detox your body. They hold your hand every step of the way to guide you to the levels of health that you deserve. 
Typical Benefits of the Myers Detox Protocol
Clients have reported: more energy, weight loss, better sleep, improved mental clarity and vastly improved digestion with a reduction in bloating, constipation, headaches, and pain.
The simple fact is that a healthy diet, lifestyle, supplements and exercise are not enough to achieve optimal health. If your health regime or program does not include detox, you will not get the results that you seek.
The Myers Detox Protocol utilizes proven, scientifically supported detox methods to remove metals and chemicals. With the Myers Detox Protocol, you experience the energy, mood, brain function and hormone balance that your body was designed to enjoy!
The Myers Detox Protocol is ideal if you want to get started right with detoxing your body from heavy metals and chemicals.  
Your Myers Detox Protocol Purchase Includes:
1 Hair Mineral Analysis with Trace Elements, Inc. HTMA*
50 minute consult with your Myers Detox Coach to review your hair mineral analysis 
Direct email support with your coach for 3 months
Lifetime access to the Myers Detox Protocol Digital Course - a 30-Day challenge and video and webinar series devoted to setting you up for success, with dozens of bonus digital guides to support your detox journey
Supplements are Optional. Custom supplement recommendations based upon your hair mineral analysis to detox YOUR heavy metal toxicities
Detox Protocol recommendations
Facebook Private Community. Wendy will personally be in the private facebook group answering your questions. The team and community are here to encourage you and help you stay focused. 
Intro to NES Bioenergetics. Get $85 off a NES Scanner and 1 hour consult to review your NES Bioenergetic scan. (We want you to try our phenomenal Bioenergetic program!)
Printed Materials with Health Goals, 6 month before and after comparison, Modern Paleo Survival Guides
Shopping Lists, recipes and meal plans
*It typically takes approximately 3 weeks to receive your test results - counted from the time you put your sample in the mail until TEI returns your results to us and we are able to notify you to book your appointment.
Please note: ​all of the ​materials to get you started on the Myers Detox Protocol with a HTMA are sent digitally (via email). None of the hair test materials are sent through regular mail. Your healing journey begins today!
Your Personal Coach
You will be able to choose from these amazing practitioners that were personally trained by Wendy. You will get the very best care available!
Sorry, Wendy Myers is no longer taking new clients.
Return Policy

We want you to be satisfied with your Myers Detox Protocol purchase. If you change your mind regarding your purchase, however, we are happy to offer refunds. However we can only grant these refunds 
if you have not yet sent in your hair sample.
Please see below for full breakdown of  our Myers Detox Protocol refund options and conditions:
Within 14 days - full refund  
After 14 days - store credit or exchange
After 30 days - no refunds or exchanges 
Read our full return policy here.
We want you to love every Myers Detox purchase you make, but, occasionally, a product may not meet your expectations. If you are dissatisfied with your purchase for any reason, please review our return and cancellation policies below. 
Requesting a Return
You may contact Myers Detox Support for return requests, or you may issue your return via your online account. Just follow these simple steps:
Check to make sure your item is eligible for a return (see below for more details).

If it is,

login to your account

.

On your account, select 'Completed Orders', then select 'Return Item(s)'. 
Please include your name and/or order number with all returns for reference. Please return all items to:
Myers Detox
10041 Regal Row
Suite 150
Houston, TX 77040
Supplements
Should you wish to return anything bought from us, we will be happy to give a refund given the following: 
Myers Detox return policy is valid from 60 days from the date of purchase. If 60 days have gone by since the date you purchased, unfortunately, we can't offer you a refund or exchange.
To be eligible for a full refund, your item must meet one of the following conditions: 
The products must be unused with the seal intact and in resalable condition.

The products can be opened, but must contain the unused portion of the product remaining in the bottle.
We will not provide refunds for bottles returned empty. 
You must pay to return products to Myers Detox Inc. 
Return postage costs can only be refunded or paid by Myers Detox Inc. if the items are deemed faulty, damaged or you have received the wrong item.
Harmoni Pendants
Please see: https://www.harmonipendant.com/policies/refund-policy
Myers Detox Protocol/Functional Medical Tests/Practitioner Consultations
Within 60 days of purchase, you may cancel your order for a full refund. 
Hair Mineral Analysis
If you have not mailed in your hair sample, we can provide a 60 day money back guarantee. If you have mailed in your hair sample, we cannot offer a refund. 
Myers Detox Digital Courses
The following courses:

Myers Detox Protocol Course

14 Day Liver Rehab Course 

14 Day Weight Loss Challenge

Emotional Detox Course

EMF Detox 

Challenge
Comes with a full 30 day money back guarantee. 
NES Health BioSync Scanners
NES Health BioSync Scanner devices may be returned within 30 days of purchase. However, a return cannot be issued if you have already received a consultation with a NES Health coach to review your scan.
miHealth Devices
NES miHealth devices are shipped directly from NES Health, Inc. and are subject to their return policies. NES Health will accept returns for items within 30 days of purchase for a full refund (sender is responsible for return shipping costs). In order to request a return for your NES miHealth device, please contact Myers Detox Support.
There is a 1 year manufacturer warranty for any hardware and/or software defects. If you have any problems with your miHealth device, please contact [email protected] for warranty service or miHealth replacement. 
Damaged Products
If you receive damaged items, please contact Myers Detox Support and we will replace or refund your order immediately.
Recommended Products or Affiliate Products 
Recommended products listed on the Myers Detox store but sold or fulfilled on external websites and shipped from other companies are subject to that company's individual return policies and are not handled by Myers Detox. Please contact these companies for returns/refunds.  
These products include infrared saunas, water filters, miHealth devices, beauty care products, and some supplements. 
Processing your Refund
In most cases, your refund will be issued within a few days of our receipt of your return. 
Shipping Costs for Returns
We will offer a prepaid return label if the return is a result of our error (you received the incorrect item, etc.). Otherwise, the shipper will be responsible for return shipping charges.
Cancellation Policy for Physical Product Orders
We generally ship all orders within 24-48 hours of placement, but we may be able to cancel your order prior to shipment. Please contact us as soon as possible upon placing your order if you would like to request cancellation.
Cancellation Policy for Practitioner Appointments
Wendy Myers and Myers Detox LLC understand that life is full of unplanned activities that can disrupt our schedules. Should you need to cancel or reschedule your appointment with your health coach, we require that notice be given at least 24 hours in advance. If a cancellation is made after that time, you will be charged in full for the session. If you are not present for your session, you will also be charged in full for the session. 
Additional Questions or Concerns?
Please contact Myers Detox Support.