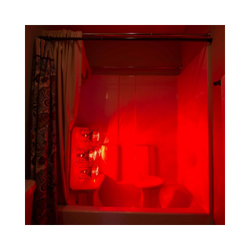 SaunaSpace Near Infrared Sauna Shower Converter
Learn more about the benefits of the Near Infrared Sauna and how it works in this podcast. CLICK HERE
Convert your standard shower enclosure into a hypoallergenic SaunaSpace® NIr sauna in a minute. It's portable, functional and doesn't take up any floor space in your home.
Enjoy the whole-body detoxification and revitalization of near infrared (NIr) lamp sauna therapy. Our ultra-low EMF incandescent (tungsten) heat lamps emit the entire 600-950nm red and near infrared light band that uniquely stimulates mitochondrial regenerative and anti-aging systems in the body's cells & tissues. They also produce plenty of heat for sauna therapy (hyperthermic therapy).
This Pocket Sauna® shower/tub/closet NIr sauna convertor is super-lightweight and very portable. It works with any standard 30 x 60 inch shower enclosure and any similar-sized closet.
Just pre-install the 2 included stainless steel tension curtain rods at the front and back top rim of the shower enclosure, and thereafter install the curtain easily in seconds. The curtain cleanly boxes in the enclosure. The Light Panel rests stably on the pedestal, and you sit on the stool. 
Set up takes seconds, removal also takes seconds.
It pre-heats in 10-15 minutes, just like the Cabana.
Our handcrafted, hand-tailored NIr sauna products are built from the ground up for the near infrared sauna experience: ultra-low EMF tungsten near infrared lamps, low outgassing natural material construction, safe user-friendly design & pleasing atmosphere.
Materials
UNTREATED BASSWOOD
Basswood is the best sauna wood: featherlight & zero VOC-rated, so it's the hypoallergenic choice for those with acute chemical sensitivity concerns. Basswood is has a gentle grain pattern, with color notes of pink and cream. Sustainably harvested in North America.
CHROMED STEEL
Our signature hardware is manufactured in USA using double-plated chromed steel. No plastic, synthetics or aluminum.
NATURALLY PRE-SHRUNK COTTON CANVAS
100% chemical-free 10 oz cotton duck. Grown, spun, woven, water-scoured and sanforized in the USA. Machine washable. Water-only scouring of yarn prior to weaving removes contaminants without the use of chemicals, so our fabric is clean & hypoallergenic.
Specifications
ELECTRICAL INFO
Operating Cost: 12¢ per hr [1]
EMF Rating: 0 mG [2]
Voltage: 110-240 VAC
Amperage: 8.3 A
Wattage:  1000 W
Frequency: 50-60 Hz
Plug Type: USA includes 120V-rated bulbs (UK, Euro, Swiss or AU/NZ plug includes 240V-rated bulbs available upon request, indicate your preference under Special Notes on Checkout)
Power Cord Length: 12 ft (3.7 m)
All electrical parts UL-listed
CE-certified
1. based on USA national average 12¢ kW-hr cost
2. at ~6 in (15.2 cm) or greater distance from switch (measured with TriField® 100XE Meter)
We want you to love every Myers Detox purchase you make, but, occasionally, a product may not meet your expectations. If you are dissatisfied with your purchase for any reason, please review our return and cancellation policies below. 
Requesting a Return
You may contact Myers Detox Support for return requests, or you may issue your return via your online account. Just follow these simple steps:
Check to make sure your item is eligible for a return (see below for more details).

If it is,

login to your account

.

On your account, select 'Completed Orders', then select 'Return Item(s)'. 
Please include your name and/or order number with all returns for reference. Please return all items to:
Myers Detox
10041 Regal Row
Suite 150
Houston, TX 77040
Supplements
Should you wish to return anything bought from us, we will be happy to give a refund given the following: 
Myers Detox return policy is valid from 60 days from the date of purchase. If 60 days have gone by since the date you purchased, unfortunately, we can't offer you a refund or exchange.
To be eligible for a full refund, your item must meet one of the following conditions: 
The products must be unused with the seal intact and in resalable condition.

The products can be opened, but must contain the unused portion of the product remaining in the bottle.
We will not provide refunds for bottles returned empty. 
You must pay to return products to Myers Detox Inc. 
Return postage costs can only be refunded or paid by Myers Detox Inc. if the items are deemed faulty, damaged or you have received the wrong item.
Harmoni Pendants
Please see: https://www.harmonipendant.com/policies/refund-policy
Myers Detox Protocol/Functional Medical Tests/Practitioner Consultations
Within 60 days of purchase, you may cancel your order for a full refund. 
Hair Mineral Analysis
If you have not mailed in your hair sample, we can provide a 60 day money back guarantee. If you have mailed in your hair sample, we cannot offer a refund. 
Myers Detox Digital Courses
The following courses:

Myers Detox Protocol Course

14 Day Liver Rehab Course 

14 Day Weight Loss Challenge

Emotional Detox Course

EMF Detox 

Challenge
Comes with a full 30 day money back guarantee. 
NES Health BioSync Scanners
NES Health BioSync Scanner devices may be returned within 30 days of purchase. However, a return cannot be issued if you have already received a consultation with a NES Health coach to review your scan.
miHealth Devices
NES miHealth devices are shipped directly from NES Health, Inc. and are subject to their return policies. NES Health will accept returns for items within 30 days of purchase for a full refund (sender is responsible for return shipping costs). In order to request a return for your NES miHealth device, please contact Myers Detox Support.
There is a 1 year manufacturer warranty for any hardware and/or software defects. If you have any problems with your miHealth device, please contact [email protected] for warranty service or miHealth replacement. 
Damaged Products
If you receive damaged items, please contact Myers Detox Support and we will replace or refund your order immediately.
Recommended Products or Affiliate Products 
Recommended products listed on the Myers Detox store but sold or fulfilled on external websites and shipped from other companies are subject to that company's individual return policies and are not handled by Myers Detox. Please contact these companies for returns/refunds.  
These products include infrared saunas, water filters, miHealth devices, beauty care products, and some supplements. 
Processing your Refund
In most cases, your refund will be issued within a few days of our receipt of your return. 
Shipping Costs for Returns
We will offer a prepaid return label if the return is a result of our error (you received the incorrect item, etc.). Otherwise, the shipper will be responsible for return shipping charges.
Cancellation Policy for Physical Product Orders
We generally ship all orders within 24-48 hours of placement, but we may be able to cancel your order prior to shipment. Please contact us as soon as possible upon placing your order if you would like to request cancellation.
Cancellation Policy for Practitioner Appointments
Wendy Myers and Myers Detox LLC understand that life is full of unplanned activities that can disrupt our schedules. Should you need to cancel or reschedule your appointment with your health coach, we require that notice be given at least 24 hours in advance. If a cancellation is made after that time, you will be charged in full for the session. If you are not present for your session, you will also be charged in full for the session. 
Additional Questions or Concerns?
Please contact Myers Detox Support.