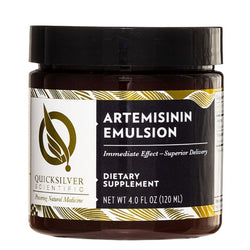 Studies show Artemisinin promotes a healthy inflammatory response and has potent immunoregulatory properties. Artemisinin helps support T and B cells in your body; and by supporting your T and B cells, Artemisinin helps keep your immune system firing on all cylinders.

Artemisinin is an active constituent of the plant Artemisia annua, also known as sweet wormwood or Qinghaosu. It is a sesquiterpene endoperoxide lactone, and the biological mechanism of action may be attributable to the generation of carbon-centered free radicals via heme-mediated or mitochondrial activated degradation of endoperoxidase bridges. Sesquiterpene lactones are secondary metabolites of plants that play an important role as attractants, deterrents, and antifeedants simultaneously.
They are bitter compounds, and as such may impact digestion in a manner similar to digestive bitters.
Artemisinin and its derivatives have been widely studied for their effects against Plasmodium falciparum, the protozoan parasite which causes malaria. Artemisinin-based combination therapies are recommended by the World Health Organization as first-line treatment for uncomplicated malaria in endemic regions. Artemisinin may impact the flora of the digestive system, genitourinary tract, and beyond, having activity against microbes including Helicobacter pylori, Escherichia coli UPEC, Staphylococcus aureus, and Pseudomonas aeruginosa. It also may impact biofilms which make infections such as Candida albicans resistant to treatment.
Because of the low bioavailability of traditional oral formulations of artemisinin, the use of derivatives such as artesunate (water-soluble) and artemether (oil-soluble) or alternate dosing strategies such as liposomes have been investigated. First-pass metabolism of artemisinin and these derivatives limit oral bioavailability to 30%. Liposomal delivery systems have been shown to lead to more stable artemisinin plasma concentrations, suggesting that they lead to an extended release and thereby prolonged systemic effect. Additionally, more immediate effects have also been seen with liposomal formulations than conventional.
INGREDIENTS
Serving Size 5 ml (1 tsp)
Servings Per Container 24
| | |
| --- | --- |
| Contains | Amount Per Serving |
| Artemisinin | 40 mg |
| Phosphatidylcholine (from purified soy bean lecithin) | 450 mg |
Other Ingredients: Glycerin, Ethanol, Water, Medium-Chain Tricglycerides
Suggested Use: Use 1 tsp (5ml) 1 to 3 times per day as directed by your health practitioner. Best used in a cycle of 10 days on, and 4 days off. It is advisable to monitor liver function enzymes (LFT's) during usage. May be taken directly by mouth or mixed into water or juice (grapefruit juice is best). Store refrigerated and use within 60 days of opening.
**These statements have not been reviewed by the FDA. Artemisinin is not intended to cure, treat, or prevent any disease. Please speak to your doctor before starting any supplement regimen.
We want you to love every Myers Detox purchase you make, but, occasionally, a product may not meet your expectations. If you are dissatisfied with your purchase for any reason, please review our return and cancellation policies below. 
Requesting a Return
You may contact Myers Detox Support for return requests, or you may issue your return via your online account. Just follow these simple steps:
Check to make sure your item is eligible for a return (see below for more details).

If it is,

login to your account

.

On your account, select 'Completed Orders', then select 'Return Item(s)'. 
Please include your name and/or order number with all returns for reference. Please return all items to:
Myers Detox
10041 Regal Row
Suite 150
Houston, TX 77040
Supplements
Should you wish to return anything bought from us, we will be happy to give a refund given the following: 
Myers Detox return policy is valid from 60 days from the date of purchase. If 60 days have gone by since the date you purchased, unfortunately, we can't offer you a refund or exchange.
To be eligible for a full refund, your item must meet one of the following conditions: 
The products must be unused with the seal intact and in resalable condition.

The products can be opened, but must contain the unused portion of the product remaining in the bottle.
We will not provide refunds for bottles returned empty. 
You must pay to return products to Myers Detox Inc. 
Return postage costs can only be refunded or paid by Myers Detox Inc. if the items are deemed faulty, damaged or you have received the wrong item.
Harmoni Pendants
Please see: https://www.harmonipendant.com/policies/refund-policy
Myers Detox Protocol/Functional Medical Tests/Practitioner Consultations
Within 60 days of purchase, you may cancel your order for a full refund. 
Hair Mineral Analysis
If you have not mailed in your hair sample, we can provide a 60 day money back guarantee. If you have mailed in your hair sample, we cannot offer a refund. 
Myers Detox Digital Courses
The following courses:

Myers Detox Protocol Course

14 Day Liver Rehab Course 

14 Day Weight Loss Challenge

Emotional Detox Course

EMF Detox 

Challenge
Comes with a full 30 day money back guarantee. 
NES Health BioSync Scanners
NES Health BioSync Scanner devices may be returned within 30 days of purchase. However, a return cannot be issued if you have already received a consultation with a NES Health coach to review your scan.
miHealth Devices
NES miHealth devices are shipped directly from NES Health, Inc. and are subject to their return policies. NES Health will accept returns for items within 30 days of purchase for a full refund (sender is responsible for return shipping costs). In order to request a return for your NES miHealth device, please contact Myers Detox Support.
There is a 1 year manufacturer warranty for any hardware and/or software defects. If you have any problems with your miHealth device, please contact [email protected] for warranty service or miHealth replacement. 
Damaged Products
If you receive damaged items, please contact Myers Detox Support and we will replace or refund your order immediately.
Recommended Products or Affiliate Products 
Recommended products listed on the Myers Detox store but sold or fulfilled on external websites and shipped from other companies are subject to that company's individual return policies and are not handled by Myers Detox. Please contact these companies for returns/refunds.  
These products include infrared saunas, water filters, miHealth devices, beauty care products, and some supplements. 
Processing your Refund
In most cases, your refund will be issued within a few days of our receipt of your return. 
Shipping Costs for Returns
We will offer a prepaid return label if the return is a result of our error (you received the incorrect item, etc.). Otherwise, the shipper will be responsible for return shipping charges.
Cancellation Policy for Physical Product Orders
We generally ship all orders within 24-48 hours of placement, but we may be able to cancel your order prior to shipment. Please contact us as soon as possible upon placing your order if you would like to request cancellation.
Cancellation Policy for Practitioner Appointments
Wendy Myers and Myers Detox LLC understand that life is full of unplanned activities that can disrupt our schedules. Should you need to cancel or reschedule your appointment with your health coach, we require that notice be given at least 24 hours in advance. If a cancellation is made after that time, you will be charged in full for the session. If you are not present for your session, you will also be charged in full for the session. 
Additional Questions or Concerns?
Please contact Myers Detox Support.