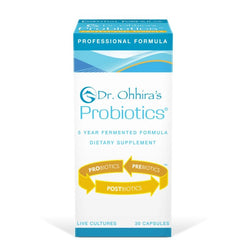 Dr Ohhira's Probiotics Prof (30 Caps)
Dr. Ohhira Probiotics Professional Formula has been fermented for 5 years. Due to the unique proprietary fermentation process, the potency of the micronutrient by-products is maximized to expedite the adhesion of the good bacteria in the colon. 
Dr. Ohhira's Probiotics is a truly unique probiotic for these reasons:
1) it contains 12 synergistic strains of probiotics
2) Dr. Ohhira has developed a growth/production process that requires from 3 to 5 years of fermentation. This extended fermentation process enables the strains of bacteria to grow and proliferate, and also results in the production of substantial metabolic byproducts such as organic acids, short-chain fatty acids, various vitamins, amino acids and other accessory nutrients. These are all of the beneficial compounds that are normally produced by probiotics in the GI tract. With Dr. Ohhira's Probiotics, you get the 12 strains of probiotics plus all these other beneficial compounds.
Stress' a diet high in processed foods' antibiotics' hormone replacement and even tap water can disrupt the delicate balance of intestinal microflora. Dr. Ohhira's Probiotics® Professional Formula helps to restore the GI environment necessary for optimal health.

Dr. Ohhira's Probiotics® Professional Formula is different than other probiotics on the market today. Each of the 12 strains of lactic acid bacteria was scientifically selected for a specific purpose' including the proprietary TH10 that has been proven to be extremely powerful and effective against opportunistic organisms.

Research tells us that hundreds of strains of friendly bacteria are needed in the digestive tract to perform vital fundamental functions and support good health. These friendly bacteria are responsible to:
1) Create essential fatty acids and vitamins (A' B1' B2' B3' B6' B12' K' and Biotin).
2) Improve digestion and create lactase to digest milk.
3) Detoxify dangerous substances.
4) Balance excess hormones.
5) Crowd out and help fight harmful bacteria and fungi.
6) Support healthy cholesterol and triglyceride levels.
7) Encourage cell repair.
8) Promote healthy immune and inflammatory responses.
Ingredients
Size: 60 Capsules
Serving Size: 1 Capsule
Contains
 Amount Per Serving
Proprietary Fermented Culture (

fermented culture medium of fruits, vegetables, mushrooms and seaweeds containing naturally occurring lactic acid bacteria, previotics, enzymes, bacteriocins and trace amounts of vitamins, minerals and amino acids)

0.42 g
Proprietary Organic Acid Blend (

itric acid, lactic acid, formic acid, acetic acid)



1.94 mg
Proporietary Lactic Acid Bacteria Blend† 
600 million CFU
Other Ingredients: Mountain spring water, safflower oil, beeswax, lecithin, capsule (tapioca processed from Manihot utilissima root, glycerin, carrageenan and caramel color). Lactic Acid Bacteria used in fermentation: Bifidobacterium breve ssp breve, Bifidobacterium infantis ssp. infantis, Bifidobacterium longum, Enterococcus faecalis TH10, Lactobacillus acidophilus, Lactobacillus brevis, Lactobacillus bulgaricus, Lactobacillus casei ssp. casei, Lactobacillus fermentum, Lactobacillus helveticus ssp. jugurti, Lactobacillus plantarum, Streptococcus thermophilus.
Dr. Ohhira's Probiotics are non-GMO and hypoallergenic (no dairy, no gluten); contains all-natural ingredients; and is guaranteed free of Soil-based Organisms (SBOs). Contains fermented soy. Soybeans used in long-term fermentation process are predigested and structurally modified to reduce or eliminate immuno-activity to soy. The probiotics are 100% vegetarian and stable without refrigeration.
Purity Promise: 
Egg Free
Fish Free
Gluten Free
Milk Free
Peanut Free
Shellfish Free
Soy Free
Tree Nuts Free
Wheat Free
Dairy Free
Chemical Free
Vegetarian Product
Suggested Use: For best results take one (1) capsule twice a day on an empty stomach (1 hour before oq 1 1/2 hours after meal) or as directed by your primary health care provider.
We want you to love every Myers Detox purchase you make, but, occasionally, a product may not meet your expectations. If you are dissatisfied with your purchase for any reason, please review our return and cancellation policies below. 
Requesting a Return
You may contact Myers Detox Support for return requests, or you may issue your return via your online account. Just follow these simple steps:
Check to make sure your item is eligible for a return (see below for more details).

If it is,

login to your account

.

On your account, select 'Completed Orders', then select 'Return Item(s)'. 
Please include your name and/or order number with all returns for reference. Please return all items to:
Myers Detox
10041 Regal Row
Suite 150
Houston, TX 77040
Supplements
Should you wish to return anything bought from us, we will be happy to give a refund given the following: 
Myers Detox return policy is valid from 60 days from the date of purchase. If 60 days have gone by since the date you purchased, unfortunately, we can't offer you a refund or exchange.
To be eligible for a full refund, your item must meet one of the following conditions: 
The products must be unused with the seal intact and in resalable condition.

The products can be opened, but must contain the unused portion of the product remaining in the bottle.
We will not provide refunds for bottles returned empty. 
You must pay to return products to Myers Detox Inc. 
Return postage costs can only be refunded or paid by Myers Detox Inc. if the items are deemed faulty, damaged or you have received the wrong item.
Harmoni Pendants
Please see: https://www.harmonipendant.com/policies/refund-policy
Myers Detox Protocol/Functional Medical Tests/Practitioner Consultations
Within 60 days of purchase, you may cancel your order for a full refund. 
Hair Mineral Analysis
If you have not mailed in your hair sample, we can provide a 60 day money back guarantee. If you have mailed in your hair sample, we cannot offer a refund. 
Myers Detox Digital Courses
The following courses:

Myers Detox Protocol Course

14 Day Liver Rehab Course 

14 Day Weight Loss Challenge

Emotional Detox Course

EMF Detox 

Challenge
Comes with a full 30 day money back guarantee. 
NES Health BioSync Scanners
NES Health BioSync Scanner devices may be returned within 30 days of purchase. However, a return cannot be issued if you have already received a consultation with a NES Health coach to review your scan.
miHealth Devices
NES miHealth devices are shipped directly from NES Health, Inc. and are subject to their return policies. NES Health will accept returns for items within 30 days of purchase for a full refund (sender is responsible for return shipping costs). In order to request a return for your NES miHealth device, please contact Myers Detox Support.
There is a 1 year manufacturer warranty for any hardware and/or software defects. If you have any problems with your miHealth device, please contact [email protected] for warranty service or miHealth replacement. 
Damaged Products
If you receive damaged items, please contact Myers Detox Support and we will replace or refund your order immediately.
Recommended Products or Affiliate Products 
Recommended products listed on the Myers Detox store but sold or fulfilled on external websites and shipped from other companies are subject to that company's individual return policies and are not handled by Myers Detox. Please contact these companies for returns/refunds.  
These products include infrared saunas, water filters, miHealth devices, beauty care products, and some supplements. 
Processing your Refund
In most cases, your refund will be issued within a few days of our receipt of your return. 
Shipping Costs for Returns
We will offer a prepaid return label if the return is a result of our error (you received the incorrect item, etc.). Otherwise, the shipper will be responsible for return shipping charges.
Cancellation Policy for Physical Product Orders
We generally ship all orders within 24-48 hours of placement, but we may be able to cancel your order prior to shipment. Please contact us as soon as possible upon placing your order if you would like to request cancellation.
Cancellation Policy for Practitioner Appointments
Wendy Myers and Myers Detox LLC understand that life is full of unplanned activities that can disrupt our schedules. Should you need to cancel or reschedule your appointment with your health coach, we require that notice be given at least 24 hours in advance. If a cancellation is made after that time, you will be charged in full for the session. If you are not present for your session, you will also be charged in full for the session. 
Additional Questions or Concerns?
Please contact Myers Detox Support.