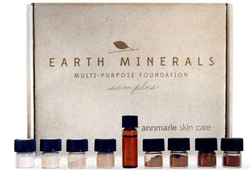 Unveil a New You, Discover How Truly Natural Products Can Transform Your Look...
If you've been looking for a natural skin care line made with organic ingredients that you can trust – and that actually works – you've found it. But don't let us try to convince you, we want you to try these products yourself. So what we've done is gathered a collection of the bestselling products.
Annmarie Skin Care has put together a trial package where you can try any of 3 special sample kits that include some of their best-selling products. You can choose a sample kit based on your skin type -- normal, oily, or dry.
These kits are $10 each AND when you order one (or more) you'll receive a $10.00 off coupon that you can use for a future purchase. Annmarie Skin Care is also offering FREE SHIPPING for these kits – anywhere in the world.
1. HERBAL FACIAL OIL FOR NORMAL & COMBINATION SKIN (15ML)
Nourish normal or combination skin with this gentle and calming herbal blend. Our unique grapeseed oil base helps balance natural oils. Skin-enriching oils—tamanu, passion fruit seed, and buriti fruit—enhance the skin's natural radiance. This lightweight, quickly absorbed moisturizer feels soothing while delivering essential nutrients for healthy skin. 
BENEFITS
Balances, Moisturizes, Softens Skins  - Suitable for all skin types (normal, combination & sensitive skin)
KEY INGREDIENTS
Grapeseed Oil, Tamanu Oil, Echinacea, Chamomile
2. ANTI-AGING FACIAL OIL (15ML)
Anti-Aging Facial Oil is also available in the larger 30ml size. This luxurious, herb-infused formula delivers intense moisture to keep dry and mature skin supple and dewy. Antioxidant-rich seed oils — chia, goji berry, and broccoli — firm and tighten, while reducing the appearance of fine lines and wrinkles. Jojoba oil resembles your skin's natural oil, softening and conditioning mature skin. Your skin vibrates in perfect harmony. 
BENEFITS
Balances, Moisturizes, Softens Skins - Suitable for Dry & Mature skin
KEY INGREDIENTS
Jojoba Oil, Chia Seed Oil, Goji Berries, Plantago
This delicate aloe vera infusion hydrates, softens and balances your look, and enhances absorption of all serums and oils. The sweet, orange-blossom aroma of neroli oil calms and soothes the mind. Use throughout the day to instantly feel hydrated and refreshed.                  
BENEFITS
Refreshes, Hydrates, Soothes body and mind  - Suitable for all skin types 
KEY INGREDIENTS
Aloe Vera, Aspen Bark Extract, Neroli Essential Oil
4. MINERALS MULTI-PURPOSE FOUNDATION - SAMPLE KIT
This sample kit allows you to try all eight shades of our Multi-Purpose Foundation, plus a sample of our Herbal Facial Oil for Normal & Combination Skin.
What is Minerals Multi-Purpose Foundation?
This makeup was created for people who want to give their complexion the perfect finish without compromising the health of their skin. Multi-Purpose Foundation is a non-toxic way to tint your existing skin care routine. The natural minerals allow you to create a liquid or dry foundation with the coverage you need — from a tinted glow to a flawless finish.
This mineral powders easily mix together so you can customize your own unique color blend, adjust with the seasons, or create unique looks. Use them dry or choose the facial oil (or cream, or serum) and Minerals Multi-Purpose Foundation color or blend that suits your skin best. This unique product has been created to give you the coverage you want. For a deep foundation use a little more powder, and for a lighter finish simply use less powder. 
These 100% pure mineral powder come from the Earth and contain no additives. Kit Contains 1/3 Dram each of:
Pearl: Fair complexions with cool undertones

Sand: Light complexions with warm undertones

Honey: Light to medium complexions with warm undertones

Olive: Medium complexions with warm undertones

Nutmeg: Medium complexions with neutral undertones

Maple: Medium to dark complexions with neutral undertones

Mocha: Dark complexions with cool undertones

Clove: Dark complexions with warm undertones

Herbal Facial Oil for Normal and Combination Skin
We want you to love every Myers Detox purchase you make, but, occasionally, a product may not meet your expectations. If you are dissatisfied with your purchase for any reason, please review our return and cancellation policies below. 
Requesting a Return
You may contact Myers Detox Support for return requests, or you may issue your return via your online account. Just follow these simple steps:
Check to make sure your item is eligible for a return (see below for more details).

If it is,

login to your account

.

On your account, select 'Completed Orders', then select 'Return Item(s)'. 
Please include your name and/or order number with all returns for reference. Please return all items to:
Myers Detox
10041 Regal Row
Suite 150
Houston, TX 77040
Supplements
Should you wish to return anything bought from us, we will be happy to give a refund given the following: 
Myers Detox return policy is valid from 60 days from the date of purchase. If 60 days have gone by since the date you purchased, unfortunately, we can't offer you a refund or exchange.
To be eligible for a full refund, your item must meet one of the following conditions: 
The products must be unused with the seal intact and in resalable condition.

The products can be opened, but must contain the unused portion of the product remaining in the bottle.
We will not provide refunds for bottles returned empty. 
You must pay to return products to Myers Detox Inc. 
Return postage costs can only be refunded or paid by Myers Detox Inc. if the items are deemed faulty, damaged or you have received the wrong item.
Harmoni Pendants
Please see: https://www.harmonipendant.com/policies/refund-policy
Myers Detox Protocol/Functional Medical Tests/Practitioner Consultations
Within 60 days of purchase, you may cancel your order for a full refund. 
Hair Mineral Analysis
If you have not mailed in your hair sample, we can provide a 60 day money back guarantee. If you have mailed in your hair sample, we cannot offer a refund. 
Myers Detox Digital Courses
The following courses:

Myers Detox Protocol Course

14 Day Liver Rehab Course 

14 Day Weight Loss Challenge

Emotional Detox Course

EMF Detox 

Challenge
Comes with a full 30 day money back guarantee. 
NES Health BioSync Scanners
NES Health BioSync Scanner devices may be returned within 30 days of purchase. However, a return cannot be issued if you have already received a consultation with a NES Health coach to review your scan.
miHealth Devices
NES miHealth devices are shipped directly from NES Health, Inc. and are subject to their return policies. NES Health will accept returns for items within 30 days of purchase for a full refund (sender is responsible for return shipping costs). In order to request a return for your NES miHealth device, please contact Myers Detox Support.
There is a 1 year manufacturer warranty for any hardware and/or software defects. If you have any problems with your miHealth device, please contact [email protected] for warranty service or miHealth replacement. 
Damaged Products
If you receive damaged items, please contact Myers Detox Support and we will replace or refund your order immediately.
Recommended Products or Affiliate Products 
Recommended products listed on the Myers Detox store but sold or fulfilled on external websites and shipped from other companies are subject to that company's individual return policies and are not handled by Myers Detox. Please contact these companies for returns/refunds.  
These products include infrared saunas, water filters, miHealth devices, beauty care products, and some supplements. 
Processing your Refund
In most cases, your refund will be issued within a few days of our receipt of your return. 
Shipping Costs for Returns
We will offer a prepaid return label if the return is a result of our error (you received the incorrect item, etc.). Otherwise, the shipper will be responsible for return shipping charges.
Cancellation Policy for Physical Product Orders
We generally ship all orders within 24-48 hours of placement, but we may be able to cancel your order prior to shipment. Please contact us as soon as possible upon placing your order if you would like to request cancellation.
Cancellation Policy for Practitioner Appointments
Wendy Myers and Myers Detox LLC understand that life is full of unplanned activities that can disrupt our schedules. Should you need to cancel or reschedule your appointment with your health coach, we require that notice be given at least 24 hours in advance. If a cancellation is made after that time, you will be charged in full for the session. If you are not present for your session, you will also be charged in full for the session. 
Additional Questions or Concerns?
Please contact Myers Detox Support.