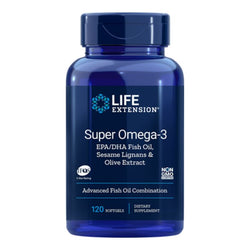 Super Omega-3 Fish Oil (120 Gels)
There's no debating the power of omega-3 fatty acids. From support for heart health and brain function to help with inflammation' their broad-spectrum benefits have been firmly established in a wealth of studies.

To ensure the purest' most stable' easy-to-tolerate fish oil supplement' Life Extension® SUPER OMEGA-3 EPA/DHA is molecularly distilled. This proprietary process ensures any pollutants are reduced to virtually undetectable levels. The result? Our fish oil enjoys a 5-star rating for purity' quality' and concentration from the International Fish Oil Standards program (IFOS)—the highest possible rating from the world's premier testing laboratory.

Fish oils (and other fatty acids) have a tendency to oxidize' rendering them nutritionally inferior. Scientific studies show that when added to fish oil' sesame lignans safeguard against oxidation and direct fatty acids toward pathways that help with inflammatory reactions. To further emulate the benefits of a Mediterranean diet' Super Omega-3 delivers standardized' high-potency olive fruit extract. Research shows that when combined with olive oil' fish oil supplements help with inflammation better than fish oil alone.

Olive also contains the compounds hydroxytyrosol' tyrosol' and oleuropein. These prevent the fish oil from going rancid. Together these nutrients counter the action of free radicals' delay aging in specialized skin cells' prevent undesirable LDL oxidation' and help maintain normal platelet activation. Super Omega-3 supplies the equivalent content of 6 ounces of extra virgin olive oil.
Sesame Lignans enhance absorption of the fish oil. 

Supportive but not conclusive research shows that consumption of EPA and DHA omega-3 fatty acids may reduce the risk of coronary heart disease.
INGREDIENTS
Size: 120 Gels
Serving Size: 4 Gels
Contains
 Amount Per Capsule

Total Fat

2.4 g

Cholesterol

<5 mg

Pure+™ Wild Fish Oil Concentrate

2000 mg

EPA (eicosapentaenoic acid)

700 mg

DHA (docosahexaenoic acid)

500 mg

Polyphen-Oil™ Olive (Olea europa) extract (fruit) 

[std. to 6.5% polyphenols (19.5 mg), 1.73%
hydroxytyrosol/tyrosol (5.2 mg), 0.5%
verbascoside/oleuropein (1.5 mg)]

300 mg

Sesame seed (Sesamum indicum) lignan extract

10 mg
Other Ingredients: Gelatin, glycerin, purified water, silica, maltodextrin, caramel color, sunflower lecithin, mixed tocopherols, rosemary. Contains fish (anchovy, mackerel). Contains corn and sesame.
Purity Promise: 
Suggested Use: Take four (4) softgels twice daily with meals, or as recommended by a healthcare practitioner.
We want you to love every Myers Detox purchase you make, but, occasionally, a product may not meet your expectations. If you are dissatisfied with your purchase for any reason, please review our return and cancellation policies below. 
Requesting a Return
You may contact Myers Detox Support for return requests, or you may issue your return via your online account. Just follow these simple steps:
Check to make sure your item is eligible for a return (see below for more details).

If it is,

login to your account

.

On your account, select 'Completed Orders', then select 'Return Item(s)'. 
Please include your name and/or order number with all returns for reference. Please return all items to:
Myers Detox
10041 Regal Row
Suite 150
Houston, TX 77040
Supplements
Should you wish to return anything bought from us, we will be happy to give a refund given the following: 
Myers Detox return policy is valid from 60 days from the date of purchase. If 60 days have gone by since the date you purchased, unfortunately, we can't offer you a refund or exchange.
To be eligible for a full refund, your item must meet one of the following conditions: 
The products must be unused with the seal intact and in resalable condition.

The products can be opened, but must contain the unused portion of the product remaining in the bottle.
We will not provide refunds for bottles returned empty. 
You must pay to return products to Myers Detox Inc. 
Return postage costs can only be refunded or paid by Myers Detox Inc. if the items are deemed faulty, damaged or you have received the wrong item.
Harmoni Pendants
Please see: https://www.harmonipendant.com/policies/refund-policy
Myers Detox Protocol/Functional Medical Tests/Practitioner Consultations
Within 60 days of purchase, you may cancel your order for a full refund. 
Hair Mineral Analysis
If you have not mailed in your hair sample, we can provide a 60 day money back guarantee. If you have mailed in your hair sample, we cannot offer a refund. 
Myers Detox Digital Courses
The following courses:

Myers Detox Protocol Course

14 Day Liver Rehab Course 

14 Day Weight Loss Challenge

Emotional Detox Course

EMF Detox 

Challenge
Comes with a full 30 day money back guarantee. 
NES Health BioSync Scanners
NES Health BioSync Scanner devices may be returned within 30 days of purchase. However, a return cannot be issued if you have already received a consultation with a NES Health coach to review your scan.
miHealth Devices
NES miHealth devices are shipped directly from NES Health, Inc. and are subject to their return policies. NES Health will accept returns for items within 30 days of purchase for a full refund (sender is responsible for return shipping costs). In order to request a return for your NES miHealth device, please contact Myers Detox Support.
There is a 1 year manufacturer warranty for any hardware and/or software defects. If you have any problems with your miHealth device, please contact [email protected] for warranty service or miHealth replacement. 
Damaged Products
If you receive damaged items, please contact Myers Detox Support and we will replace or refund your order immediately.
Recommended Products or Affiliate Products 
Recommended products listed on the Myers Detox store but sold or fulfilled on external websites and shipped from other companies are subject to that company's individual return policies and are not handled by Myers Detox. Please contact these companies for returns/refunds.  
These products include infrared saunas, water filters, miHealth devices, beauty care products, and some supplements. 
Processing your Refund
In most cases, your refund will be issued within a few days of our receipt of your return. 
Shipping Costs for Returns
We will offer a prepaid return label if the return is a result of our error (you received the incorrect item, etc.). Otherwise, the shipper will be responsible for return shipping charges.
Cancellation Policy for Physical Product Orders
We generally ship all orders within 24-48 hours of placement, but we may be able to cancel your order prior to shipment. Please contact us as soon as possible upon placing your order if you would like to request cancellation.
Cancellation Policy for Practitioner Appointments
Wendy Myers and Myers Detox LLC understand that life is full of unplanned activities that can disrupt our schedules. Should you need to cancel or reschedule your appointment with your health coach, we require that notice be given at least 24 hours in advance. If a cancellation is made after that time, you will be charged in full for the session. If you are not present for your session, you will also be charged in full for the session. 
Additional Questions or Concerns?
Please contact Myers Detox Support.