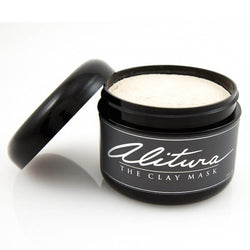 The Alitura Clay Mask 6.8oz
The Best Facial Mask Treatment Unlike ANYTHING else on the market, the Alitura Clay Mask is truly an "all-in-one" facial treatment that thoroughly purifies skin at its deepest layers.
Rebuild your skin from the inside-out by enriching it with 10% L-Ascorbic Acid, the highest quality Vitamin C on the market. Growth factor-rich Colostrum drawn from grass-fed cows in their first 6 hours of milking nourishes and replenishes the skin with vital nutrients, minerals, enzymes and amino acids.  Freshwater Pearl powder gently minimizes sun spots and evens skin tone. American Ginseng clears blemishes with its refreshing, blood-building properties. Organic Kelp powder adds its earthy, yet potent, qualities to round out the perfect topical nourishment for your skin.
Your skin's condition is one of the first impressions you make on others – make a powerful statement about yourself without saying a word.
Clay Mask Ingredients
10% L-Ascorbic Acid (Vitamin C): The most immediately absorbable form of vitamin C on the market, L-Ascorbic Acid, brightens the skin by radically reducing the effects of sun damage and spotting.
Freshwater Pearl Powder: Pearl powder, one of nature's more subtle exfoliates, has the remarkable ability to establish an even skin tone and smooth out wrinkles. It is particularly useful for eradicating sun spots, reducing redness, and mitigating irritation.
6-hour Grass-fed Colostrum: Colostrum is a natural source of many vitamins, minerals, enzymes, and amino acids. Rich in growth factor IGF-1, 6 hour colostrum assists in the regeneration of skin cells.
American Ginseng: Known to eliminate blood impurities and facilitate skin cell oxygenation, Ginseng is a critical component of sustaining skin regeneration for a fresh, radiant complexion.
Rhassoul Clay: Direct from the Atlas Mountains of Morocco, this clay provides an unmatched detoxifying effect for facial skin. Recent studies have shown Rhassoul to be valuable in improving skin elasticity, unclogging pores, and removing harmful, excess surface oils.
Pyrophyllite Clay: This incomparable source of macro minerals, containing over 70% of the mineral silica which is vital in maintaining elasticity in our skin, along with trace minerals and angstrom elements has been used for centuries to instigate skin renewal and invigoration. Due to its easy dispersal in water this clay does not clump upon application, reducing the risk of irritation while cleansing.
Calcium Bentonite Clay (Green Desert Clay): Bentonite, a highly absorbent quarry-mined clay, develops a mild electric charge when saturated with liquid. This quality, particularly helpful in the extraction of acne-producing toxins and metals, is compounded by Bentonite's potent astringent properties that work to shrink and tighten inflamed pores.
Kaolin Clay: Kaolin clay is commonly used in many different spa treatments to help purify, nourish, and heal different skin types.  The use of kaolin clay originated from the Romans, Greeks and Chinese.  It contains many essential and phytonutrients that are beneficial in the anti-aging process.
Organic Kelp Powder: Loaded with sodium alginate – a powerful topical cleanser, this nutrient dense antioxidant promotes a radiant complexion by penetrating pores and drawing out impurities.
Unlike ANYTHING else on the market, the Alitura Clay Mask is truly an "all-in-one" facial treatment that thoroughly purifies skin at its deepest layers. This unique blend of 9 nutrient-dense ingredients exfoliates dead skin, reduces pore openings, stimulates blood flow, and encourages growth of new skin cells. The detoxifying properties of carefully formulated clays draw out impurities, and produce porcelain-smooth skin with a radiant glow.
We want you to love every Myers Detox purchase you make, but, occasionally, a product may not meet your expectations. If you are dissatisfied with your purchase for any reason, please review our return and cancellation policies below. 
Requesting a Return
You may contact Myers Detox Support for return requests, or you may issue your return via your online account. Just follow these simple steps:
Check to make sure your item is eligible for a return (see below for more details).

If it is,

login to your account

.

On your account, select 'Completed Orders', then select 'Return Item(s)'. 
Please include your name and/or order number with all returns for reference. Please return all items to:
Myers Detox
10041 Regal Row
Suite 150
Houston, TX 77040
Supplements
Should you wish to return anything bought from us, we will be happy to give a refund given the following: 
Myers Detox return policy is valid from 60 days from the date of purchase. If 60 days have gone by since the date you purchased, unfortunately, we can't offer you a refund or exchange.
To be eligible for a full refund, your item must meet one of the following conditions: 
The products must be unused with the seal intact and in resalable condition.

The products can be opened, but must contain the unused portion of the product remaining in the bottle.
We will not provide refunds for bottles returned empty. 
You must pay to return products to Myers Detox Inc. 
Return postage costs can only be refunded or paid by Myers Detox Inc. if the items are deemed faulty, damaged or you have received the wrong item.
Harmoni Pendants
Please see: https://www.harmonipendant.com/policies/refund-policy
Myers Detox Protocol/Functional Medical Tests/Practitioner Consultations
Within 60 days of purchase, you may cancel your order for a full refund. 
Hair Mineral Analysis
If you have not mailed in your hair sample, we can provide a 60 day money back guarantee. If you have mailed in your hair sample, we cannot offer a refund. 
Myers Detox Digital Courses
The following courses:

Myers Detox Protocol Course

14 Day Liver Rehab Course 

14 Day Weight Loss Challenge

Emotional Detox Course

EMF Detox 

Challenge
Comes with a full 30 day money back guarantee. 
NES Health BioSync Scanners
NES Health BioSync Scanner devices may be returned within 30 days of purchase. However, a return cannot be issued if you have already received a consultation with a NES Health coach to review your scan.
miHealth Devices
NES miHealth devices are shipped directly from NES Health, Inc. and are subject to their return policies. NES Health will accept returns for items within 30 days of purchase for a full refund (sender is responsible for return shipping costs). In order to request a return for your NES miHealth device, please contact Myers Detox Support.
There is a 1 year manufacturer warranty for any hardware and/or software defects. If you have any problems with your miHealth device, please contact [email protected] for warranty service or miHealth replacement. 
Damaged Products
If you receive damaged items, please contact Myers Detox Support and we will replace or refund your order immediately.
Recommended Products or Affiliate Products 
Recommended products listed on the Myers Detox store but sold or fulfilled on external websites and shipped from other companies are subject to that company's individual return policies and are not handled by Myers Detox. Please contact these companies for returns/refunds.  
These products include infrared saunas, water filters, miHealth devices, beauty care products, and some supplements. 
Processing your Refund
In most cases, your refund will be issued within a few days of our receipt of your return. 
Shipping Costs for Returns
We will offer a prepaid return label if the return is a result of our error (you received the incorrect item, etc.). Otherwise, the shipper will be responsible for return shipping charges.
Cancellation Policy for Physical Product Orders
We generally ship all orders within 24-48 hours of placement, but we may be able to cancel your order prior to shipment. Please contact us as soon as possible upon placing your order if you would like to request cancellation.
Cancellation Policy for Practitioner Appointments
Wendy Myers and Myers Detox LLC understand that life is full of unplanned activities that can disrupt our schedules. Should you need to cancel or reschedule your appointment with your health coach, we require that notice be given at least 24 hours in advance. If a cancellation is made after that time, you will be charged in full for the session. If you are not present for your session, you will also be charged in full for the session. 
Additional Questions or Concerns?
Please contact Myers Detox Support.