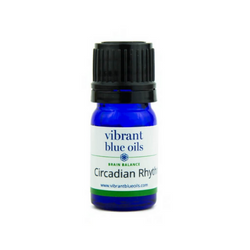 Vibrant Blue Oils CIRCADIAN RHYTHM
Our all-natural Circadian Rhythm® blend triggers the natural release of the sleep-inducing hormone, melatonin, and promotes a healthy circadian rhythm so that you can finally enjoy the deep sleep your body craves.
Struggling to fall or stay asleep? You might be physically exhausted, but your brain won't shut off.  So you lie awake, willing your brain to turn off so you can finally fall asleep. Your struggle ends right now.
Reach for a bottle of Circadian Rhythm®.
Circadian Rhythm® is an all-natural essential oil blend formulated to address the underlying root issue of your insomnia.
By using this sleep-inducing blend before bed, you'll support healthy pineal gland function, trigger the natural release of melatonin, turn down the production of cortisol at night, and slip into a deep, restful sleep night after night.
"My insomniac client began sleeping fully through the night the VERY FIRST time she started using the oils. She feels like a new woman."
HOW TO USE CIRCADIAN RHYTHM®
Designed for aromatic and topical use.
If using topically, we recommend applying 2-3 drops to three different points on the head: the top of the ears on skull (both sides), the apex of the skull on top of the head, and the very back of the head (in the middle) before bed.
Always test on a nickel sized portion of skin first. Make sure your skin can handle the oil/blend before using.
For aromatic usage, hold the bottle under nose for 3 or 4 breaths.
CIRCADIAN RHYTHM® INGREDIENTS: 

Vibrant Blue Oils Brain Balance Circadian Rhythm™ proprietary formulations includes very specific ratios of the following organic and/or wild crafted therapeutic essential oils in a base of fractionated coconut oil:
Balsam of Peru (Myroxylon balsamum): Promotes epithelial cell growth, helps lessen mucus secretions and support pain, sores and wounds. Can also stimulate the heart and increases blood pressure. This is a calming oil that helps reduce stress and promotes restful sleep.
Lavender (Lavandula angustifolia): One of the top oils to treat insomnia. The blend contains Lavender, one of the top oils to treat insomnia. A study published in Sage Journal found that "lavender oil displays similar therapeutic effects as melatonin" Additional research on The effect of aromatherapy with lavender on serum melatonin levels The effect of aromatherapy with lavender (Lavandula angustifolia) on serum melatonin levels found that "blood melatonin levels significantly increased in the total population after the intervention with aromatherapy."
Melaleuca (Melaleuca quinquinervera ct Cineole): Known to act as an adrenal stimulant, it helps reinvigorate a sluggish liver and will help treat pancreas problems. It also helps your digestive system run more smoothly.
Myrtle (Myrtus communis): Balances the nervous system, promoting rest and relaxation. Also helps support anxiety disorders.
Myrrh (Commiphora myrrha): Supports all stress-related conditions and anxiety and inspires peace and tranquility. Relieves apathy, lack of incentive and low energy.
Rose Geranium (Pelargonium Roseum): This oil is sedative and an antidepressant. It helps soothe anxiety and stress. consoling, It helps alleviate acute fear and extreme moodiness. It can help you work on your self-esteem.
White Grapefruit (Citrus paradise): Stimulates the liver, gallbladder and helps the lymphatic system function properly. On emotional and spiritual levels, grapefruit is said to address a person's self-acceptance and release self-abuse patterns.
These statements have not been evaluated by the Food and Drug Administration. This product is not intended to diagnose, treat, cure or prevent any disease.
We want you to love every Myers Detox purchase you make, but, occasionally, a product may not meet your expectations. If you are dissatisfied with your purchase for any reason, please review our return and cancellation policies below. 
Requesting a Return
You may contact Myers Detox Support for return requests, or you may issue your return via your online account. Just follow these simple steps:
Check to make sure your item is eligible for a return (see below for more details).

If it is,

login to your account

.

On your account, select 'Completed Orders', then select 'Return Item(s)'. 
Please include your name and/or order number with all returns for reference. Please return all items to:
Myers Detox
10041 Regal Row
Suite 150
Houston, TX 77040
Supplements
Should you wish to return anything bought from us, we will be happy to give a refund given the following: 
Myers Detox return policy is valid from 60 days from the date of purchase. If 60 days have gone by since the date you purchased, unfortunately, we can't offer you a refund or exchange.
To be eligible for a full refund, your item must meet one of the following conditions: 
The products must be unused with the seal intact and in resalable condition.

The products can be opened, but must contain the unused portion of the product remaining in the bottle.
We will not provide refunds for bottles returned empty. 
You must pay to return products to Myers Detox Inc. 
Return postage costs can only be refunded or paid by Myers Detox Inc. if the items are deemed faulty, damaged or you have received the wrong item.
Harmoni Pendants
Please see: https://www.harmonipendant.com/policies/refund-policy
Myers Detox Protocol/Functional Medical Tests/Practitioner Consultations
Within 60 days of purchase, you may cancel your order for a full refund. 
Hair Mineral Analysis
If you have not mailed in your hair sample, we can provide a 60 day money back guarantee. If you have mailed in your hair sample, we cannot offer a refund. 
Myers Detox Digital Courses
The following courses:

Myers Detox Protocol Course

14 Day Liver Rehab Course 

14 Day Weight Loss Challenge

Emotional Detox Course

EMF Detox 

Challenge
Comes with a full 30 day money back guarantee. 
NES Health BioSync Scanners
NES Health BioSync Scanner devices may be returned within 30 days of purchase. However, a return cannot be issued if you have already received a consultation with a NES Health coach to review your scan.
miHealth Devices
NES miHealth devices are shipped directly from NES Health, Inc. and are subject to their return policies. NES Health will accept returns for items within 30 days of purchase for a full refund (sender is responsible for return shipping costs). In order to request a return for your NES miHealth device, please contact Myers Detox Support.
There is a 1 year manufacturer warranty for any hardware and/or software defects. If you have any problems with your miHealth device, please contact [email protected] for warranty service or miHealth replacement. 
Damaged Products
If you receive damaged items, please contact Myers Detox Support and we will replace or refund your order immediately.
Recommended Products or Affiliate Products 
Recommended products listed on the Myers Detox store but sold or fulfilled on external websites and shipped from other companies are subject to that company's individual return policies and are not handled by Myers Detox. Please contact these companies for returns/refunds.  
These products include infrared saunas, water filters, miHealth devices, beauty care products, and some supplements. 
Processing your Refund
In most cases, your refund will be issued within a few days of our receipt of your return. 
Shipping Costs for Returns
We will offer a prepaid return label if the return is a result of our error (you received the incorrect item, etc.). Otherwise, the shipper will be responsible for return shipping charges.
Cancellation Policy for Physical Product Orders
We generally ship all orders within 24-48 hours of placement, but we may be able to cancel your order prior to shipment. Please contact us as soon as possible upon placing your order if you would like to request cancellation.
Cancellation Policy for Practitioner Appointments
Wendy Myers and Myers Detox LLC understand that life is full of unplanned activities that can disrupt our schedules. Should you need to cancel or reschedule your appointment with your health coach, we require that notice be given at least 24 hours in advance. If a cancellation is made after that time, you will be charged in full for the session. If you are not present for your session, you will also be charged in full for the session. 
Additional Questions or Concerns?
Please contact Myers Detox Support.