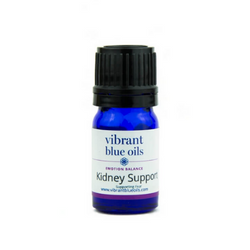 Vibrant Blue Oils KIDNEY SUPPORT
Promotes feelings of safety, strength and courage.  Balances kidney emotions of fear, loneliness, paranoia and insecurity.
The kidneys are two bean-shaped organs that filter blood and remove water-soluble waste products.  The kidneys also regulate the balance of fluids in the body, blood pressure (by maintaining the salt and water balance) and the body's acid-alkaline balance (pH) by selectively filtering out or retaining various minerals and electrolytes.
In Chinese medicine, the kidneys are considered the seat of courage and willpower.  They control the volume, composition and pressure of fluids in all the cells.  Blood flows through the kidneys at its highest pressure, filtering out toxins and directing nourishing materials to where they are needed.  Water is symbolic of the unconscious, our emotion and of that which we do not understand and that which we fear.
Feelings of fear and paranoia can be held in the kidneys impairing function.  Vibrant Blue Oils Emotion Balance Kidney Support™ blend helps dispel fear, assist in feeling safe and bring about a balance of emotions.
HOW TO USE KIDNEY SUPPORT™
Designed for aromatic and topical use.

If using topically, we recommend applying 2- 3 drops over the kidneys (one inch up and out from belly button), back of neck, or around the outside of earlobes. 

Always test on a nickel sized portion of skin first.

Make sure your skin can handle the oil/blend before using.  Dilute to start or if any redness occurs.  For Aromatic Usage, hold the bottle under nose for 3 or 4 breaths.
During periods of intense emotion, apply every 20 minutes.   Under normal conditions, apply 2- 3 times daily.
KIDNEY SUPPORT™ INGREDIENTS: 
Vibrant Blue Oils Emotion Balance Kidney Support™ proprietary formulation includes very specific ratios of the following organic and/or wild crafted therapeutic essential oils in a base of fractionated coconut oil:
Cedarwood (Cedrus deodora): Helps the brain focus, especially with anxiety disorders.
Fir Needle (Abies alba): Helps with grounding and reducing tension and stress.
Frankincense (Boswellia carterii): Helps relieve nervous tension and stress related conditions. Contains sesquiterpenes, which enable it to go beyond the blood brain barrier to assist in increasing oxygen around the pineal and pituitary glands.
Pine (Pinus nigra): Due to its stimulating nature, it helps relieve fatigue, nervous exhaustion and other stress related conditions.
Spruce (Tsuga canadensis): Supports the nervous and glandular systems. It is mentally grounding, helps balance the solar plexus, stimulate the thymus, and helps support depression, anxiety and stress.
Ylang Ylang (Cananga odorata genuina): Soothes the nervous system, calms the mind, relieves mental fatigue, anxiety, tension headaches, depression, and insomnia. It has strong antidepressant properties and it helps to bring the emotions into proper balance.
These statements have not been evaluated by the Food and Drug Administration. This product is not intended to diagnose, treat, cure or prevent any disease.
We want you to love every Myers Detox purchase you make, but, occasionally, a product may not meet your expectations. If you are dissatisfied with your purchase for any reason, please review our return and cancellation policies below. 
Requesting a Return
You may contact Myers Detox Support for return requests, or you may issue your return via your online account. Just follow these simple steps:
Check to make sure your item is eligible for a return (see below for more details).

If it is,

login to your account

.

On your account, select 'Completed Orders', then select 'Return Item(s)'. 
Please include your name and/or order number with all returns for reference. Please return all items to:
Myers Detox
10041 Regal Row
Suite 150
Houston, TX 77040
Supplements
Should you wish to return anything bought from us, we will be happy to give a refund given the following: 
Myers Detox return policy is valid from 60 days from the date of purchase. If 60 days have gone by since the date you purchased, unfortunately, we can't offer you a refund or exchange.
To be eligible for a full refund, your item must meet one of the following conditions: 
The products must be unused with the seal intact and in resalable condition.

The products can be opened, but must contain the unused portion of the product remaining in the bottle.
We will not provide refunds for bottles returned empty. 
You must pay to return products to Myers Detox Inc. 
Return postage costs can only be refunded or paid by Myers Detox Inc. if the items are deemed faulty, damaged or you have received the wrong item.
Harmoni Pendants
Please see: https://www.harmonipendant.com/policies/refund-policy
Myers Detox Protocol/Functional Medical Tests/Practitioner Consultations
Within 60 days of purchase, you may cancel your order for a full refund. 
Hair Mineral Analysis
If you have not mailed in your hair sample, we can provide a 60 day money back guarantee. If you have mailed in your hair sample, we cannot offer a refund. 
Myers Detox Digital Courses
The following courses:

Myers Detox Protocol Course

14 Day Liver Rehab Course 

14 Day Weight Loss Challenge

Emotional Detox Course

EMF Detox 

Challenge
Comes with a full 30 day money back guarantee. 
NES Health BioSync Scanners
NES Health BioSync Scanner devices may be returned within 30 days of purchase. However, a return cannot be issued if you have already received a consultation with a NES Health coach to review your scan.
miHealth Devices
NES miHealth devices are shipped directly from NES Health, Inc. and are subject to their return policies. NES Health will accept returns for items within 30 days of purchase for a full refund (sender is responsible for return shipping costs). In order to request a return for your NES miHealth device, please contact Myers Detox Support.
There is a 1 year manufacturer warranty for any hardware and/or software defects. If you have any problems with your miHealth device, please contact [email protected] for warranty service or miHealth replacement. 
Damaged Products
If you receive damaged items, please contact Myers Detox Support and we will replace or refund your order immediately.
Recommended Products or Affiliate Products 
Recommended products listed on the Myers Detox store but sold or fulfilled on external websites and shipped from other companies are subject to that company's individual return policies and are not handled by Myers Detox. Please contact these companies for returns/refunds.  
These products include infrared saunas, water filters, miHealth devices, beauty care products, and some supplements. 
Processing your Refund
In most cases, your refund will be issued within a few days of our receipt of your return. 
Shipping Costs for Returns
We will offer a prepaid return label if the return is a result of our error (you received the incorrect item, etc.). Otherwise, the shipper will be responsible for return shipping charges.
Cancellation Policy for Physical Product Orders
We generally ship all orders within 24-48 hours of placement, but we may be able to cancel your order prior to shipment. Please contact us as soon as possible upon placing your order if you would like to request cancellation.
Cancellation Policy for Practitioner Appointments
Wendy Myers and Myers Detox LLC understand that life is full of unplanned activities that can disrupt our schedules. Should you need to cancel or reschedule your appointment with your health coach, we require that notice be given at least 24 hours in advance. If a cancellation is made after that time, you will be charged in full for the session. If you are not present for your session, you will also be charged in full for the session. 
Additional Questions or Concerns?
Please contact Myers Detox Support.